Bangladesh is a trusted hub of apparel sourcing across the globe.
More than 150 countries import ready-made garments from Bangladesh.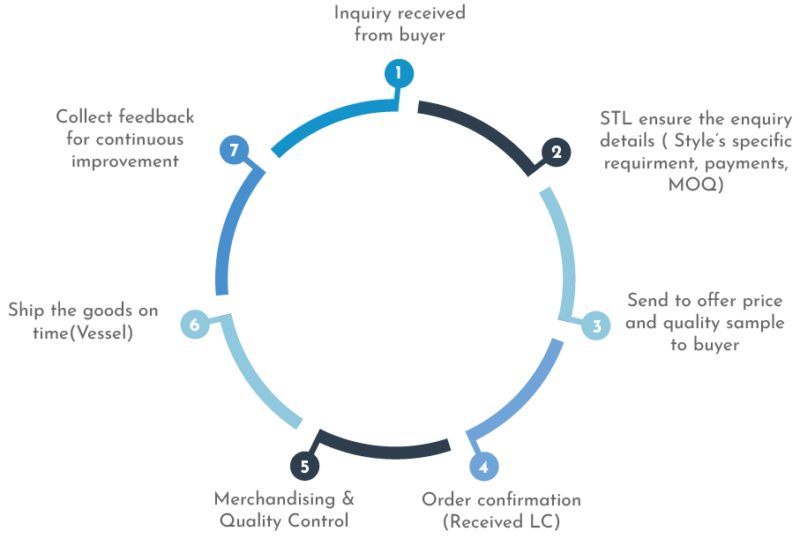 We produce our products in compliant factory.
Our main strength is our onboarded factories providing quick supports to our buyers. We follow a standard procedure in factory onboarding. Before onboarding any supplier we operate 4 individual audits like financial audit, compliance audit, quality audit and management audit as our buyers feel comfort about shipment and quality.
Factory ranges are:
Small: Factories within 10 lines
Medium: Factories within 15 to 25 lines
Big: Factories more than 25 lines
World Prestigious LEED Certified Factory in Bangladesh
We Work All Ranges of Factory
Our separate teams handle knit, woven, sweater, denim and leather products (both for men and women) with tops and bottom ranges.
STL separated its team based on product categories, and each team contains individual merchandisers, quality controllers, and common commercial people. STL has 3 separate teams;
♦ Circular knit.
♦ Woven (Non Denim and Denim).
♦ Sweater.
We manufacture high quality products according to different casts, cultures, colors and seasons.
For each season STL develops a good number of fabrics, trims and styles based on the buyer requirement. However, all fabrications, trims and style are not ordered triggering lots of development left behind the manufacturing process. STL has archive on its server to store them as potential clients can choose them from the archive.  Many more designs and styles based on different seasons we are working.